Invitation to a special evening celebrating 65 years of creativity, exchange, collaboration and cultural partnerships.
British Premiere
"Kigen"
by Gabriele Proy

"Tuerkis"
by Gabriele Proy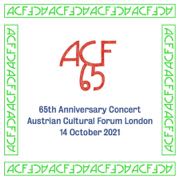 The ACF London
has decided to host an anniversary concert, curated together with Gabriele Proy, one of Austria's most recognised contemporary composers.
Enjoy a versatile programme featuring works by Joseph Horovitz, Hans Gal, Gabriele Proy, Joseph Haydn and many more, performed by the exceptional musicians Ulrike Anton, Armin Egger and Miyuki Schüssler.
As inspiration for the evening, the ACF London looks to the significant Austrian and Jewish refugee and émigré community in the United Kingdom and their valuable contribution to British cultural life. The ACF London would like to honour this community that established numerous cultural societies and institutes and were central in making the Austrian Cultural Forum London what it is today.